As I struggled hard to set up a new feeder after the old feeder was shut down, I decided to try to help others by creating this step by step userguide. There is a lot of help out there, but I'm trying to put it all in one place. After some trying and failing, I beleive this is the easiest way to set up a new feed. I decided to take the 'Flightaware-route' as I found this to be the simplest way. As an added benefit you will get a free Enterprise account there.
I bought a Vilros Raspberry Pi 3 Kit with Clear Case and 2.5A Power Supply that I found on Amazon and used an old DVBT dongle and a 1090 window antenna I have had sitting around for a while.
Start by installing Piaware, Flightaware's image software. It also has the latest version of dump1090-fa. Log in or create a profile if you don't already have one.
https://flightaware.com/
http://piaware.flightcdn.com/piaware...-3.7.1.img.zip
Unpack the file to a new folder on your computer.
Use Etcher or Win32Diskmanager to create the image on a mini-SDcard. I used Win32DiskManager and a 16gb as I found none smaller.
https://sourceforge.net/projects/win32diskimager/
If you use wifi, edit piaware-config.txt to include your SSD and password before you eject the card.
Add also a folder called SSH on the card if you plan to use SSH.
Eject the card and insert in your pi. Boot up and register the device with Flightaware. You may need to edit your location.
https://flightaware.com/adsb/piaware/claim
You should now have an active Enterprise account with Flightaware.
----
Install PuTTy to access your Pi
https://www.chiark.greenend.org.uk/~...ty/latest.html
Find your ip on your network (e.g. 192.168.1.25 (if wireless) and use it to open PuTTy. Log in with username
pi
and password
flightaware
. (It's recommended to change the password. Use command
passwd
and follow the prompts.)
Enter
sudo raspi-config
to go to the configuration menu. Select 7. Advanced options and 1. Expand File System. (recommended)
Finish and go back to the command prompt. Reboot -
sudo reboot
You can now check Flightaware status
sudo piaware-status
and restart feed
sudo systemctl restart piaware
from the prompt.
For reference, see
https://flightaware.com/adsb/piaware...ional#password
Make sure you are logged into Flightradar24.com with your user account.
To get FR24FEED software, enter
sudo bash -c "$(wget -O - http://repo.feed.flightradar24.com/install_fr24_rpi.sh)"
You will be asked to enter your email address, antenna position, sharing key (if you have one) and other details.
You can also do it manually step by step using the instructions here:
https://forum.flightradar24.com/thre...6479#post66479
You then probably need to add
1. Open config file using:
sudo nano /etc/fr24feed.ini
2. Add these two parameters there.
use-http=yes
http-timeout=10
3. Save and exit: ctrl+o AND ctrl+x
4. Reboot your PI:
sudo reboot
You should now be able to enter 192.168.1.x:8754 (x being your local ip) in your browser and get the feeder status. You may or may not be online.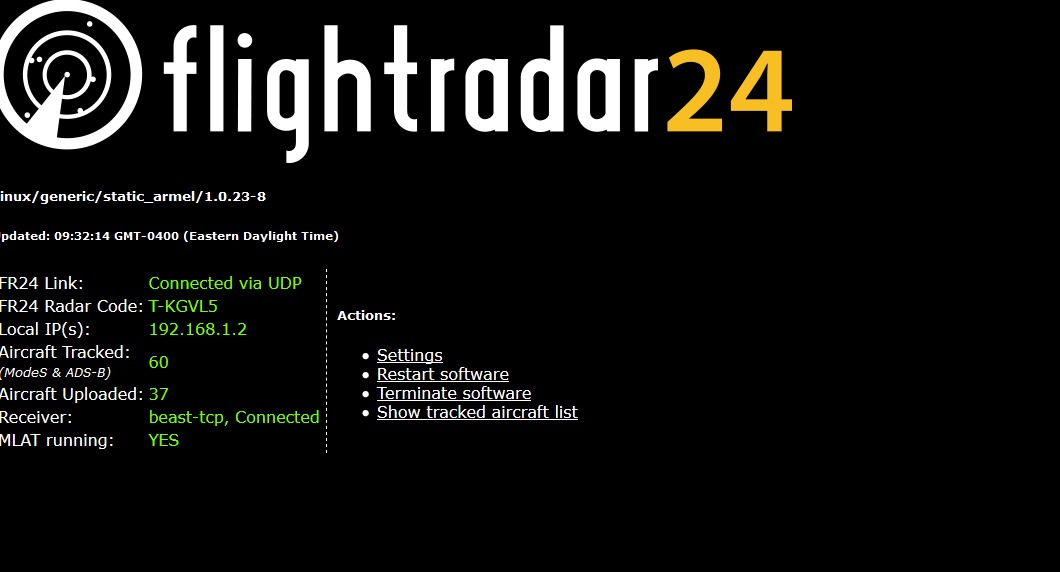 ( If not, click on settings and enter [B]--net --gain -10[/s] in your Process Arguments. ) Edit: Not necessary with this image
Add also
127.0.0.1:30005
in your Host IP. Change receiver to ModeS Beast (TCP), save and reboot and you should be good to go.