Hungarian airline Malev collapses
"At 0500 GMT... after 66 years of almost continuous operation Malev will no longer take off," it said.
http://www.bbc.co.uk/news/business-16866872
Some of there aircraft are being ferried to Shannon for storage:
Aircraft that are currently active, Callsigns:
MAH5200 Reg: HA-LOK
MAH5212 Reg: HA-LOU
MAH5224 Reg: HA-LOH
MAH5324 Reg: HA-LOD
MAH5412 Reg: HA-LON
MAH5400 Reg: HA-LOJ
MAH5236 Reg: HA-LOC
MAH5350 Reg: HA-LOF
MAH5336 Reg: HA-LOR
MAH5250 Reg: HA-LOL
MAH5300 Reg: HA-LOS
MAH5376 Reg: HA-LOG
MAH5348 Reg: HA-LOE
MAH5248 Reg: HA-LOM
Seven Malev Aircraft all heading for Shannon.
Eleven Malev Aircraft heading Shannon.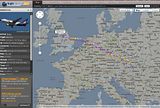 Malev Salut to Budapest, low level pass.